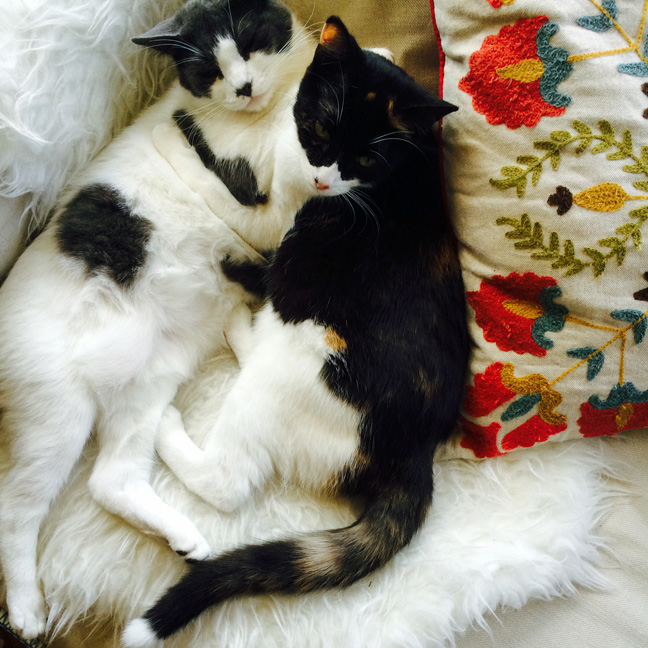 We have so many joyful memories with Tina bear! We are so thankful to have had her in our lives! She loved to cuddle with Kip, chase him down the hall, bite and lick him and lay on the window sill soaking in the rays. She loved belly pets and foot pets and pretty much any pets she could get. We remember her as the joyful kitty chasing Kip down the hall. ~Love, Clark and Paige (kitty parents of Tina and Kip)

VIDEO MEMORIAL
Remembering Tina (aka Whimsy Whis-Purr)
Whispurr, Willow, Wren, Whimsy and Wink
Our five little babies rescued from the streets
Found under a house,
so quiet… as a mouse,
waiting for mama to return, she sleeps.
Now Wink was a character, pulled out of a drain
Reunited with his family, with the sibs he remained
Each kitten so precious and tiny and fun
Filling all with joy & laughter, their journey begun
Whimsy, the favorite… wow what a kitten. While quite shy
Like her brother Wink, she was smart as could be.
Some called her "Batman", you see?
While others just smiled at her precious face,
Expressing the desire to take her away!
When Whimsy would say,
"oh no… you want me?
But you must also bring Wink!...
That's how it should be.
Wink is my brother, my friend too!
And I love him as much as I love you"
Whimsy, now "Tina" and Wink's new name Kippy
Found their very own home with a special family
Happy and loved their life had become
Who would have thought this life could end so young.
Tina has gone to the Rainbow Bridge
She will wait there for Clark, Paige, Kip and her other sibs
Playing and romping, lounging in the sun
Filling her day with that special fun!
Tina we miss you more than words can express
As we said goodbye today
To a kitten that is simply the best.
We look forward to the time we will see you again
We love you Tina.
Our love has no end.
In Loving Memory of my favorite little girl, Whimsy now "Tina"
(Lost at such a young age from Lymphoma)
August 9, 2013 to February 9, 2015
Lucy